Seit gut 5 Jahren verrichtet ein Tool bei mir im Unternehmen seinen Dienst; bei mir ist es fast schon in Vergessenheit geraten.
Durch einen Thread im deutschen Notes Forum musste ich mich aber noch einmal damit beschäftigen.
Ich verwende DWFSYNC, um Daten aus unterschiedlichen Adressbüchern in ein zentrales Organisationsverzeichnis zu synchronisieren.
Was unterscheidet die Synchronisation von der Replikation ? Dazu der Text aus der Hilfe.
Replication is the process of making two databases essentially identical.
In its simplest form, replication propogates additions, modifications and deletions in both directions between two data sources.

Synchronization is the process of propogating additions, modifications and deletions in one direction between a master database, called a source, to a target database.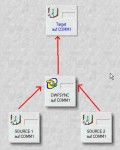 Offenbar ist die Konfiguration des Tools aber nicht so einfach. Daher habe ich einmal eine Konfiguration vorbereitet, die die Quellen "Source 1" und "Source 2" in der Datenbank "Target" zusammenfasst.
Grundlage der Quellen und des Ziels ist die Schablone pernames.ntf.
DWFSYNC kann grundsätzlich jede Art von Daten behandeln ( ausgenommen Richtext ).
@Formulas können beim Füllen von Feldern verwendet werden.
DWFSYNC unterstützt ADD, UPDATE und DELETE von Datensätzen. Alles in Allem ein recht mächtiges Tool. Auf jeden Fall sollte man sich die, zugegebenermaÃ?en recht dürftigen, Hilfe-Dokumente einmal genauer ansehen.