Never mind.
On Monday, there will be information on how to view the Opening General Session online

[ via Ed Brill ]
In addition, there is a Live Blogging from Lotusphere page where you can "instantly" see what Bruce Elgort, Julian Robichaux, Ed Brill and others are writing during the show.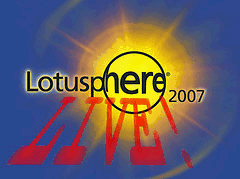 This site has been created so that people not attending Lotusphere can still get a feel for the atmosphere and any announcements that are taking place during the General Opening Session.
The site is built by Carl Tyler from Instant Technologies and hosted by connectria
Another announcement by Ed Brill
I've been given the green light to announce that 40-plus Lotusphere presentations from the AD, ID, INV, and JMP tracks will be posted as podcasts to developerWorks during March 2007