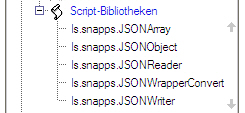 Troy Reimer of SNAPPS donates LotusScript JSONWriter and JSONReader to the community.
You can download Version 1.0 of JSONReader and JSONWriter here.
The database (json.nsf) contains LotusScript classes for parsing and creating JSON text.
These classes are contained in five script libraries: ls.snapps.JSONArray, ls.snapps.JSONObject, ls.snapps.JSONReader, ls.snapps.JSONWriter, and ls.snapps.JSONWrapperConverters.
The JSONArray and JSONObject classes are wrapper classes that are used by the JSONReader class. Additional information can be found in the "Help – About This Database" document.
The JSON LotusScript Classes are also available on OpenNTF.