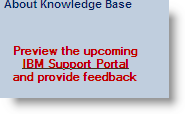 Found this link in the Lotus Software KnowledgeBase.
"IBM is introducing a new way to access technical support information for all of your IBM products and services.
This early release of the IBM Support Portal currently supports Power Systems, and Lotus, Rational, WebSphere, Information Management, and Tivoli products."
You can Try the new IBM Support Portal site now and give IBM some feedback, or View the introductory IBM Support Portal videos.