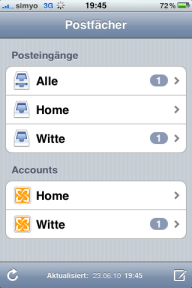 With iOS4, Apple allows more than one Echange account on the iPhone. Therefore you can now have more than one IBM Lotus Notes Traveler account on your device.
Mikkel Heisterberg already wrote about this yesterday.  I configured my iPhone 3GS after apgrading to iOS4 to sync mails from the Domino server in my company and from my server at home.
It works like a treat, although the power consumption increased. You can view mails, calendar and contacts from both accounts mixed together in one view or you can switch between the accounts to show only mails from one account at a time. Same for the calendar.
You also have access to addressbooks on both servers.
But you will only be able to read encrypted mails in one of your accounts, because Traveler Companion only supports one configuration.
Maybe IBM will enhance this in the future when multiple IBM Lotus Traveler accounts are used by more and more customers and will become a supported configuration .