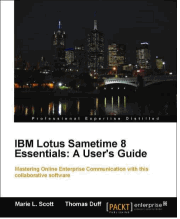 IBM Lotus Sametime 8 Essentials was written by Marie Scott and Thomas Duff and first published in September 2010. Both authors are well known speakers at conferences including Lotusphere.
The book is only available in English, but this is not a showstopper for readers from other countries with an average knowledge of english language.
The writing style is clear and understandable. You can feel that the authors know what they are writing about and that they have great skills in presenting technical content to non-technical audience/readers.
IBM Lotus Sametime 8 Essentials was written for end-users. No matter if you are a Sametime "newbee" or you want to become a Sametime "power user". On 270 pages it covers almost every aspect of IBM Lotus Sametime 8.x. Even as an administrator or a supporter in a servicedesk you should consider to order a copy of this book.
While reading, you will always find some things you didn't know about IBM Lotus Sametime. For example, I didn't know that you can add a user to the contacts list by simply right click the user in the Domino Directory and choose the "Add to Sametime contacts list" action. I have completely missed this feature in the past.
Chapter 8 shows how to install and use the Sametime mobile client on Blackberry, Windows Mobile, Nokia and Sony Ericsson. The iPhone is not covered in this chapter.
You will find the relevant information on page 241 in Appendix A. Could have been more verbose. I guess that this information has been added very close to  the deadline. I'm sure that we will read more in a 2nd edition.
Appendix C lists many valuable Sametime ressources including a link to the "Official" Sametime song.
In other reviews I always complained about the quality of screenshots. The images in IBM Lotus Sametime 8 Essentials are well choosen and show only the relevant information. Again this is an indicator for the author's skill in presenting. Well done, Marie and Tom!
Fazit:
If you are using IBM Lotus Samtime in your organization and you want to learn in detail how to use each feature from start to finish, this book is for you.
If you not yet use IBM Lotus Samtime in your organization, buy a copy of this book for one of the decision makers. A great overview of all the things that can be done using Sametime to increase productivity. Way better than all the glossy broshures from IBM marketing.
You can order your copy here.
Add "IBM Lotus Sametime 8 Essentials" to the shopping cart at www.PacktPub.com and enter LN15BL in the "Promotional Code" box. When you hit the "Add Promotional Code" button, a 15% discount will be applied.