Lotusphere is just about to start in a few hours and there are only a few days to go to  EntwicklerCamp 2011. The Camp is one of two big conferences in Germany run by dutchman Rudi Knegt and his team.
As always, the lineup of national and intenational speakers is impressive. Maureen Leeland, Ben Langhinrichs, Paul Withers, Detlev Pöttgen, Thomas Bahn to name only a few.
With this camp so close after Lotusphere 2011 you can expect sessions right from the 'Sphere'.
I will also do a session called "The Lotus Code Cookbook". The content is not XPages centric because  there are already 8 XPages related sessions on the agenda. So I decided to do a session dealing with "classic" programming techniques.
We will look at some basic settings in the DDE, @formulas, LotusScript, C-API and do RichText manipulation on the CD-record level using LS2CAPI. The content is for beginners to geeks. It took me about 6 months to put the session together. Hope you enjoy it.
If you cannot make it to EntwicklerCamp, chances are that I will give this session at BLUG and / or UKLUG ( if my session proposal gets accepted )
I will also speak at the CGS of Entwicklercamp. "From PLATO to the leading groupware platform" is about the history of Lotus Notes from it's beginning long before Release 1 to present.
Session slides are prepared and I also have packed a box of giveaways for the attendees. Laptop cases, T-shirts, bools USB-sticks and other stuff.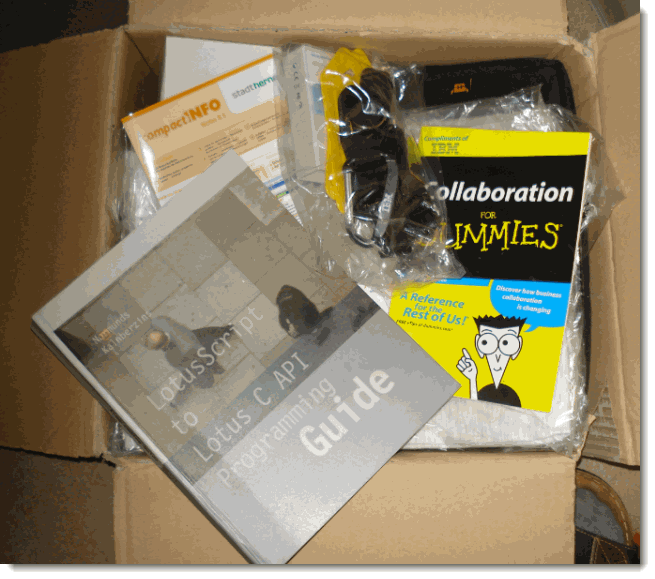 If you are a company and would like to support me, you are invited to send me some freebies that I can give away at conferences. Any help is much appreciated.